A charming city wherever you go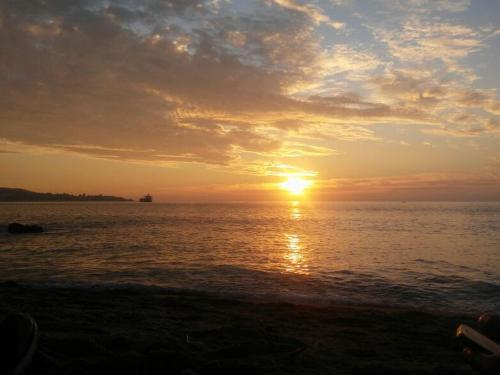 "...we also have a terrace with an amazing view" is what I tell every passenger who comes to the hotel (The panoramic picture is taken from the terrace). But this, far from being a commercial sentence, is actually true. Every day I can't stop getting amazed at the wonderful view of our terrace, especially in sunrises. Even I have lived all my life in Viña del Mar, I love this city. It has everything! Countrysides, parks, beaches, nightlife, good restaurants... everything!

Every now and then I stand at the hotel's terrace and take a look at the city. The calming sea, the majestic mountains, the hills full of houses, the clouds making some shapes in the sky... I love living in Viña del Mar.

Just in front of the hotel, there's a restaurant with the best pizzas I have ever tried. Walking a bit further (no more than 5 minutes), I can find a very good sushi restaurant. If I want to take a long walk, I can find burgers, more pizzas, and some small groceries shops. But I can also find a fancy restaurant in less than 10 minutes walking!

Going down from the hill, I can get to the seaside. It's a highway, but with a broad sidewalk, where I can get too beautiful pictures! it's like inviting me to walk more. Okay, I walk a bit more, around 20 minutes, and I arrive at Caleta Abarca beach, the Flowers Clock, and the city downtown. I can really get lost in this city walking everywhere, and I can always find good spots to visit. And when I am too far, or too tired to walk back to the hotel, I can take a "colectivo" (a group taxi), and I can go back to the hotel for less than 2 dollars!

Come to Viña del Mar, you will agree with me that this is a charming city, everywhere you go!
The importance of Ocean View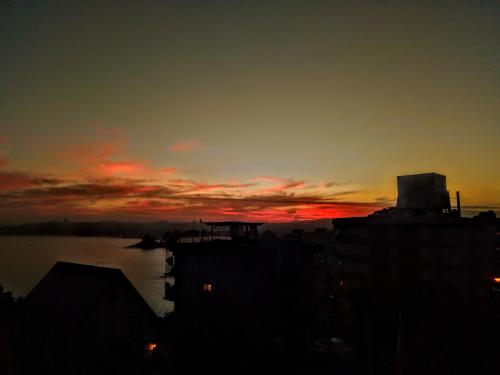 The sea, as powerful as it is, has a unique relaxing effect, difficult to describe. And waking up with this sensation, looking through the window, and meeting the Pacific Ocean in one side, and on the other side the amazing spectacle of sunrise (the one in the picture, taken from the terrace), is simply priceless. Actually, every time I see an image like this, live, I can't stop to be amazed.

In Viña del Mar there are not many hotels with ocean view. 4 to be exact. But no one has the characteristics that Hotel Boutique Vista Velero has. This hotel, even it's not in the downtown, it's located in a very calm and secure neighborhood, where there is no external noise affecting your night rest. We have a small parking, and when this is full, we have CCTV cameras for vehicles parked on the street. So (even we have had no incidents at all with passenger's vehicles), all guests can rest in ease without fearing for their vehicles.

Besides, humbly I can say we have an excellent crew. We are very interested in the passengers to feel very well cared of because they are the most important for our hotel. And so many guests have acknowledged that. Many times we have received compliments for our work.

And a very important detail: our prices are very convenient. Besides, we are constantly making promotions and offers, so we always have the most convenient rates.

Simply let yourself go by the magic of an incredible experience, definitely an unforgettable stay.